Grayson County Annual Holiday Lights Show and Reception
---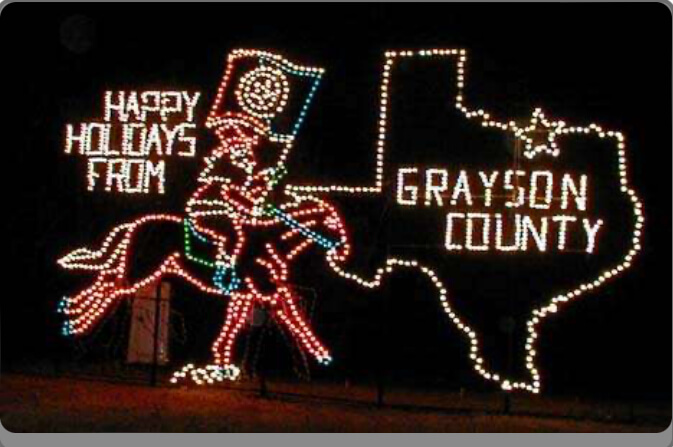 Nov 27, 2023 to Dec 31, 2023
Bring the family and drive through the sparkle, color and animation of a holiday wonderland. The Grayson County Annual Holiday Lights Show will run from November 27th thru December 31st from sun down to 10pm.
Please Stop by the museum for light refreshments and a visit with The Jolly Old Elf, himself! This is a beautiful addition to your holiday activities, dedicated to the children and the child in all of us. It is a wonderful way to get in the Christmas spirit. Though the show is free, we graciously appreciate any donations, which go directly towards this project year to year.
DON'T MISS A VISIT WITH SANTA!
Santa Claus will be at the Holiday Lights Reception on November 24th at 5pm to meet and talk with children. A photographer will be available to photograph children with Santa in a bright red sleigh, just like the one he will be in while making his rounds on Christmas Eve. Pictures are $5.00

FOR INFORMATION
Call the village at 903-463-2487 or contact us via the website.
http://www.graysoncofrontiervillage.us/annual-holiday-lights-show.html
Located in Loy Park, Hwy 75,
​Exit 67,
111 RC Vaughan Dr, P.O. Box 646,
Denison, Texas 75021
Phone 1 903 463 2487
email: gcfrontiervillage@gmail.com