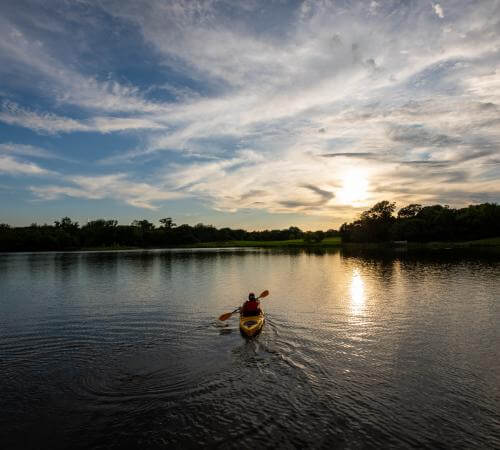 Top 10 Outdoor Activities
1. Rent a Kayak at Waterloo Lake
Whether you are by yourself or with friends, we've made it SUPER easy for you to enjoy a few hours on the lake.
2. Sand Volleyball at THF Park
Nothing says summer like sand volleyball. Bring your friends, volleyball, and enjoy a game.
3. Disc Golf at Munson Park
When was the last time you played disc golf? This is such a fun activity for friends and family.
4. Hiking at Eisenhower State Park
Soak up the beauty of nature that surrounds you at Eisenhower State Park on Lake Texoma.
5. Fishing on Lake Texoma
Whether you're an expert angler or are looking to go out with a guide—we've got you covered.
6. Hike or Bike the Trails at Waterloo Lake
Surrounding Waterloo Lake is a gorgeous trail that's perfect for hiking with your dog or biking with your friends. Plus, see if you can find the cave!
7. Enjoy a Picnic at Hidden Hangar Vineyard
The tasting room may be temporarily closed but you can still enjoy a picnic at the vineyard by the pond.
8. Putt Putt Golf at HeyDay
A fun activity for the whole family.
9. Check Out the Denison Dam
The spillway is a great photo op and another fishing location.
10. Peruse Public Art in Downtown Denison
Take a stroll down Main Street where you will see public art from banners and dumpsters to murals.